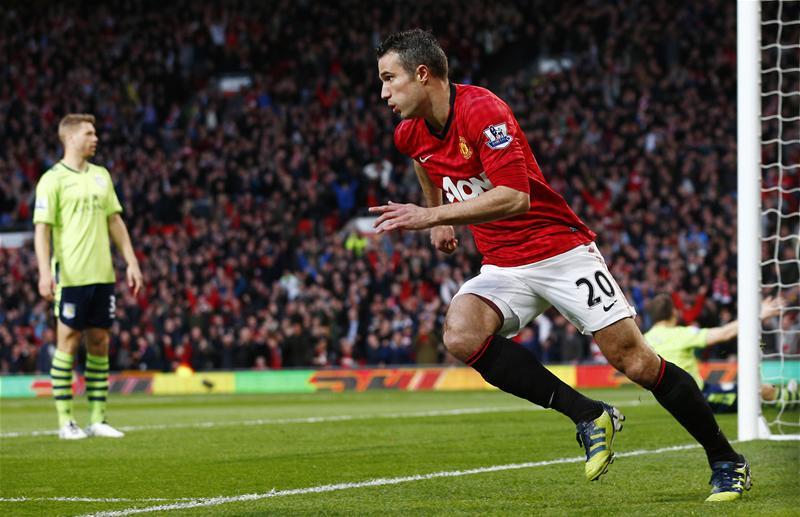 Goal-scoring drought? Robin van Persie rolls on the goals and scores a hat-trick in the first-half
Manchester
United
Aston Villa
De Gea
Evra (Y 27')
Rafael
Jones
Evans
Giggs
Valencia
Carrick
Kagawa
Rooney
(

SUB

Welbeck 72')
Van Persie (

GOAL!

2', 13', 33')

Unused subs:
Lindegaard
Ferdinand
Buttner
Nani
Cleverley
Hernandez
Guzan
Vlaar
Bennett
(

SUB

Clark 80')
Baker
Lowton
N'Zogbia
(

SUB

El-Ahmadi 46')
Westwood
Delph
Agbonlahor
Benteke
Weimann

Unused subs:
Given
Holman
Sylla
Bent
Bowery
MANCHESTER IS RED - that is the message Manchester United have sent towards their neighbors Manchester City, with the Reds winning their 20th league title by defeating Aston Villa 3-0.
Manchester United made a high-octane start in the first-half, with Robin van Persie finishing off a pass from Wayne Rooney at the left in under 82 seconds. From then on, it was the Dutchman's show. A minute later he would've made it 20 but his shot just grazes over the bar.
The Old Trafford faithful held their breath for quite a while when Villa caught the home side on the break, with Andreas Weimann and Christian Benteke creating Villa's only clear-cut chance of the half.
Rooney's long-range pass to Robin van Persie, reminiscent of Ryan Giggs' beautiful long ball to the Dutchman during their FA Cup match against West Ham earlier in the season, set the stage of goal number two. The Netherlands international, on the half-volley from the edge of the box, rockets home the second goal.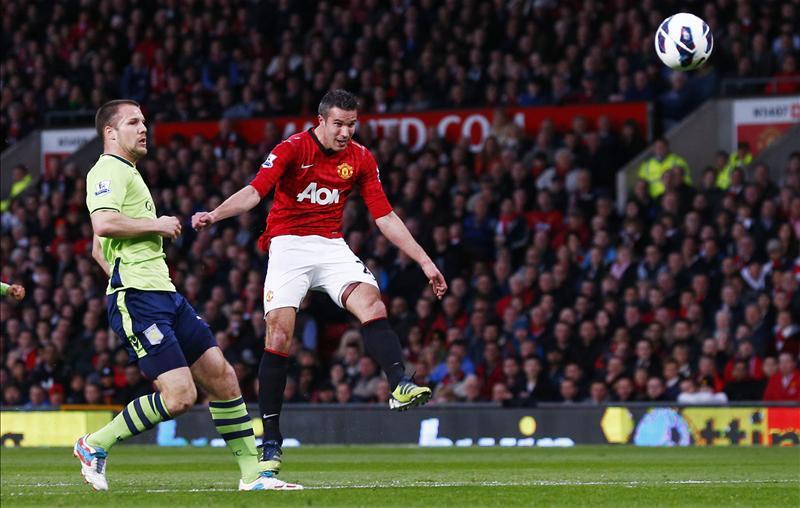 Van Persie slots home a long-range goal from the edge of the box
Some minutes later, Ryan Giggs manifest a moment of selflessness, opting to make a short pass to Robin van Persie inside the box, with the Dutchman finishing off the first half with a hat-trick.
The home side loosened their step on the gas come the second half, with Aston Villa having a bit more of the ball than earlier in the game. Paul Lambert's men had a few half-chances of their own, but nothing as precise as they would've liked.
The Reds, on their part, had a few chances of their own, and Shinji Kagawa almost made it 4-0 with good passing play made from the front line inside the box. The Japanese international adjusts the ball on his feet to lose goalkeeper Brad Guzan but just when everything was poised for goal, Kagawa kicks the ball high.
In the end, United simply held on the ball, ran down the time, and after the full time, the Reds are crowned champions.
Agony from the last day of last season now replaced by cheers of joy and celebration, as the Reds soared to their 20th league title.